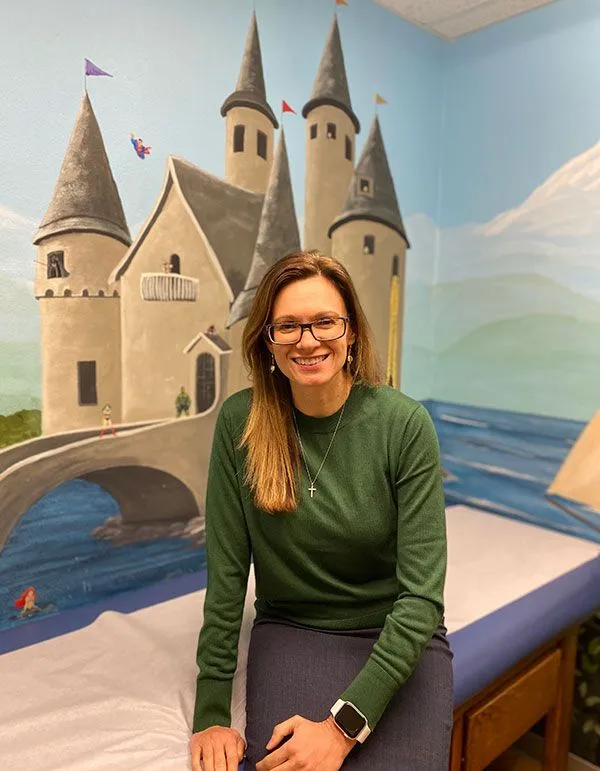 Dr. Nielsen would like to welcome Dr. Magdalenne Corso in joining her practice!
I welcome you to my practice at Oregon City Pediatric! It is a privilege to watch children grow and develop and help parents navigate the challenges and delight in the joys of each unique stage of development from infancy through the teen years. My mission is to provide the highest level of personalized and compassionate care for each and every child, one patient at a time. I try to foster an atmosphere where patients and families feel free to ask questions, raise concerns, and express their values when it comes to their medical care. We are a team working together and parents and caregivers really know their children best!
I have been a board certified pediatrician practicing in the Portland area since 2004. I attained my Bachelor of Science degree from the University of Notre Dame in Indiana and my medical degree from Loyola University Stritch School of Medicine in Illinois. I completed my pediatric residency at Loyola University Medical Center, just outside of Chicago. After residency my husband and I moved to Oregon and have enjoyed exploring its landscape ever since. When I'm not in the office, I'm usually spending time with my husband and our three daughters. We are avid college football enthusiasts but the most exciting sports games to watch are always our kids'.
Magdalenne Corso, M.D.
Dr. Corso's Medical Assistant
Tyler started her medical assisting career in 2017 after graduating from Concorde Career College. She has worked in various areas, and has found that pediatrics is by far her favorite area to work! She loves being a part of the development and growth of kids through all stages. When Tyler is not in the office, she enjoys movie nights and karaoke! In the summer, she loves to spend time outdoors with her family on the coast, and of course, with her favorite aunt, Whitney. She has had a great love for fishing and hunting since she was a young girl. Tyler has two pets: A husky malamute dog named Tule and a cute little turtle named Tobias.
Dr. Corso's Nurse Practitioner
Kaley feels privileged to be involved with the families and children in her care. She has been a healthcare professional for 10 years and is proud to have provided nursing care for children at Phoenix Children's Hospital for 6 of those years. She found her true passion was in connecting with and educating families and she loved to be in the clinic setting where she could establish ongoing relationships. She decided to pursue further education and completed her licensing as a Nurse Practitioner in 2020. She received her Bachelor of Science in Nursing from Arizona State University and her Master of Science in Nursing from University of Phoenix. She loves to watch patients grow and seeks to be a meaningful resource as families navigate their illnesses and concerns. She desires to help patients and families feel empowered to take part in their own care and give them the information they need to be successful. She recently moved to Oregon from Arizona and is enjoying all that Oregon has to offer. Outside of work she enjoys taking her two young boys on adventures. She also enjoys cooking and when she can find time, sewing.